When Will Astronauts Launch From U.S. Soil Again?
NASA is hopeful SpaceX and Boeing will soon free the country from dependency on Russia, but delays abound.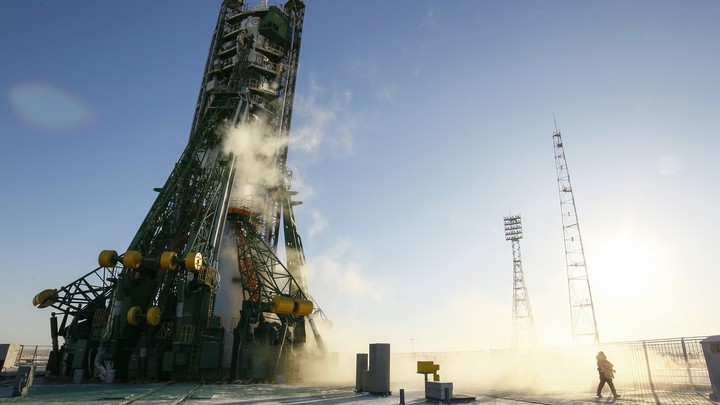 A Soyuz spacecraft, which carries astronauts to space, sits on the launchpad at Baikonur cosmodrome in Kazakhstan. Shamil Zhumatov / AP
In 2010, as the United States prepared to wind down the Space Shuttle program that carried Americans into orbit for three decades, NASA asked some commercial companies to start thinking about what came next. The space agency gave them a combined $50 million to design the transportation technologies of the future. Until then, NASA would pay Russia to send American astronauts to their shared home above Earth, the International Space Station.
On Wednesday, some of the people involved in this partnership convened on Capitol Hill to face lawmakers and provide an update on their progress.
On one end of the table sat Bill Gerstenmaier, the associate administrator for human exploration and operations at NASA, who gave a positive picture of the partnership, known as the Commercial Crew Program, as it's going right now.
"This is a critical time in the program as manufacturing is in high gear, testing is being completed, and verification and validation requirements are being addressed by NASA," he said. "The program is approximately one year away from the first crewed flights to ISS."
On the other end of the table was Cristina Chaplain, the director at the U.S. Government Accountability Office (GAO) who has overseen multiple reviews of the Commercial Crew Program. Her testimony included some bad news on the effort to restore the country's astronaut-launching capabilities.
SpaceX and Boeing, the two companies NASA ended up hiring to develop space transportation, may send a human crew on a test flight to the International Space Station in 2019, yes, but they would then need to undergo and pass rigorous safety tests—and the timeline for that is slipping. The companies' contracts with NASA, established in 2014, had called for passing final certification tests in 2017. Based on a new GAO report released Wednesday, SpaceX may not get certified for regular flights to the ISS until December 2019, and Boeing until February 2020. The companies have a "considerable amount of work" to do to meet safety standards, Chaplain noted.
"Aggressive schedules and delays are not atypical for programs developing new launch vehicles or crew vehicles," Chaplain said. "But in this case, the delays and final certification dates raise questions about whether the United States will have uninterrupted access to the space station beyond 2019."
In between Gerstenmaier and Chaplain sat representatives for SpaceX and Boeing. Hans Koenigsmann, a SpaceX vice president, and John Mulholland, a Boeing vice president, both assured the members of Congress at the hearing that their companies would be ready to meet this demand on time.
But the GAO report suggests a different story, and Wednesday's hearing, held by the House Subcommittee on Space, began with some sharp words from the subcommittee's chairman about the report's prediction of more delays.
Brian Babin, a Republican congressman from Texas, said SpaceX and Boeing are "behind schedule, may not meet safety and reliability requirements, and could even slip into cost overruns."
"Both companies are making progress, but certainly not at the rate that was expected and not without significant challenges to safety and reliability," Babin said. "In order to remedy these problems, NASA may seek additional funding or accept significant risks. Neither of those options is viable."
The Commercial Crew Program has been plagued with delays since its inception. NASA's initial target date of 2015 was pushed to 2017, and then again to mid-2018. Last week, NASA announced some more delays: Un-crewed demonstrations by both SpaceX and Boeing are now scheduled to take place in August, and crewed flights are expected to follow in November and December.
"The work completed took longer than originally planned, but many technical issues were discovered and resolved," Gerstenmaier told the subcommittee. "This extra time that was taken in this development phase will help reduce the risk and magnitude of additional scheduled delays."
Chaplain said SpaceX and Boeing have reported delays nine and six times, respectively, since NASA awarded them a combined $6.8 billion to work on crew transportation systems. She said both companies are currently working on addressing some safety problems. Boeing is trying to figure out how to prevent its spacecraft, the CST-100 Starliner, from tumbling during some mission-abort scenarios, which could threaten the safety of the crew. The company is also investigating the possibility that the spacecraft's heat shield would damage the parachute system during reentry into Earth's atmosphere. SpaceX, meanwhile, is trying to address safety concerns from NASA safety advisory boards about fueling its Dragon spacecraft while astronauts are inside.
Right now, the United States pays between $70 million and $80 million per seat for a ride on Russian Soyuz spacecrafts to the ISS. And the government has bought a couple more rides through 2019, just in case delays of the Commercial Crew Program continue. After that, if SpaceX or Boeing still aren't ready to fly, NASA may be out of luck. If the space agency wanted to attempt to buy seats from Russia then, it may need to wait until new Soyuz launch vehicles are assembled and built, a process that takes three years.
At some point, the race between SpaceX and Boeing to test their crew capsules becomes a race that pits the two companies, together, against time. The United States and its international partners are committed to operating the station only through 2024. If the start of regular flight operations slips even further—from late 2019 and early 2020, as GAO now predicts, into later in the 2020s—the very purpose of this effort would be at stake. NASA has already picked the astronauts that will participate in the test flights of commercial transportation systems. Should delays continue or worsen, these astronauts may find themselves all dressed up with nowhere to go.