SpaceX Hires NASA Expert on Human Spaceflight as Crew Test Nears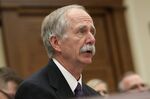 Photographer: Win McNamee/Getty Images
LISTEN TO ARTICLE
SHARE THIS ARTICLE

Space Exploration Technologies Corp. is turning to a longtime NASA spaceflight expert as it prepares to fly its first astronauts this year.
Bill Gerstenmaier has begun working as a consultant for the SpaceX reliability team, the company said Tuesday. He recently retired from the National Aeronautics and Space Administration after a 42-year career in which he worked on the Space Shuttle program, the International Space Station and most recently the Artemis project to return astronauts to the moon.
The hire deepens SpaceX's expertise in human spaceflight ahead of a key test: the first trip by astronauts to the ISS aboard a U.S. vehicle since the shuttle program was retired in 2011. SpaceX, led by billionaire Elon Musk, is expected to carry NASA astronauts Bob Behnken and Doug Hurley as soon as this spring in a Crew Dragon demonstration flight.
That voyage is tentatively set for May 7, Ars Technica reported Monday, citing discussions with space agency officials. SpaceX conducted a successful unmanned flight in March for NASA's Commercial Crew program, which is designed to end U.S. reliance on Russia's Soyuz program for trips to the space station.
The company is also working on its next Starship spacecraft in South Texas, designed to carry large numbers of travelers to Mars.
Gerstenmaier was ousted as NASA's associate administrator for human spaceflight in July, after 14 years as an administrator overseeing space operations and flight.
That move came as NASA Administrator Jim Bridenstine sought to speed work on Boeing Co.'s long-delayed and over-budget SLS rocket and to hasten the agency's tempo for a human moon landing before 2025. Gerstenmaier was named special adviser to the deputy administrator.
Boeing Failure
A test flight by Boeing, NASA's other partner in the Commercial Crew program, failed to reach the space station in December. The agency cited "critical software defects" in Boeing's Starliner and opened a review of the company's quality control. The Starliner's next flight has yet to be scheduled.
At SpaceX, Gerstenmaier's long experience could help the company navigate future NASA contract awards for ferry runs to the space station and potential transportation needs to and from the moon.
Known around the industry as Gerst, the NASA veteran is widely respected for his deep technical expertise. Dmitry Rogozin, the head of Russian space agency Roscosmos, tweeted his congratulations to SpaceX for hiring "my friend" Gerstenmaier.
The SpaceX hiring was reported earlier Tuesday by CNBC.