Human space flight
Automated transfer vehicle (ATV)
The Automated Transfer Vehicle (ATV) dubbed the ISS's lifeline to Earth, ferried propellants, food, water and equipment to the ISS between 2008 and 2015.
Once docked, an ATV used its own engines to:
Correct the station's orbit
Compensate for a regular loss of altitude due to drag
Contribute to collision and debris avoidance
At the end of a mission, the ATV was filled with waste, de-docked and burned up as it headed back into the Earth's atmosphere. The ground-breaking innovations and learnings obtained during the ATV development and missions now serve as a fundamental basis for the development of the Orion ESM.
ATV – the story of success
Orion European Service Module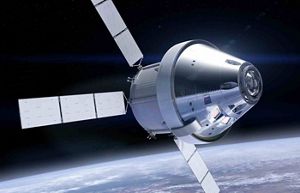 Orion, NASA's next-generation spaceship designed for manned space exploration missions of destinations beyond low Earth orbit (asteroids, the Moon, Mars), will be powered by a European Service Module (ESM) developed and built by Airbus Defence and Space. This ESM will power the Orion capsule and its crew deeper into space than ever before, providing propulsion, power, water, oxygen and nitrogen as well as keeping the spacecraft at the right temperature and on course.
Learn more about Orion ESM through Orion´s blog
| | |
| --- | --- |
| #1 European supplier | for a NASA spacecraft |
| 1st uncrewed flight | planned for 2020 |
| Up to 4 astronauts | can be sent to space |
Drawing on their experience with the International Space Station (ISS), they know by heart what life support systems need to look like. NASA cannot fly without us, and we cannot fly without them.
Oliver Juckenhoefel, Airbus Defence and Space
Orion European Service Module for NASA's spacecraft
The commercial use of the ISS is increasing, leading to new and low-cost opportunities to access to space. Whatever the mission in low Earth orbit, Airbus offers affordable and "all-in-one" mission service on-board the International Space Station by hosting either external payloads or experiments inside the ISS.
Named after the younger brother of Christopher Columbus, the Bartolomeo platform is attached to the European Columbus Module and operated by Airbus Defence and Space. Bartolomeo application areas include (but are not limited to) Earth observation, robotics, material science or astrophysics. This all-in-one Mission Service comprises all mission elements into one commercial contract (mission preparation, payload launch, payload on-orbit installation, commissioning, operation, payload data processing and delivery), in order to provide the customer a reliable integrated mission solution. The offer includes:
Launch opportunities are available on every servicing mission to the ISS, payloads can be launched pressurised or unpressurised.
Easy mission preparation: payload sizes, interfaces, preparation steps and integration processes largely standardised.
Highly Cost-Efficient: customers can save significantly compared to traditional mission cost. This makes Bartolomeo ideal for research and development missions, e.g. technology demonstrations.
| | |
| --- | --- |
| A 10-year experience | in integrating/operating payloads |
| Only 12 months | of lead time |
| 20 years of experience | in cargo transportation/operation |
Our 'ISS balcony' provides a highly cost-and-time-efficient means to perform a space mission in low Earth orbit or to test and validate new technology in orbit.