How Video Games Help Fuel Space Exploration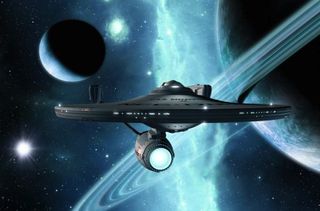 Having traveled to other worlds in his game creations such as "Ultima," Richard Garriott de Cayeux is now doing the real thing. He flew to the International Space Station in 2008 (on a reported $30 million ticket). And his company, Space Adventures, has organized flights on Soyuz craft for about a dozen other moguls.
At the South by Southwest conference in Austin this week, Garriott de Cayeux explained why he thinks that private companies can make spaceflight radically cheaper and more common. Ideas include having NASA contract with private rocket companies for human spaceflight instead of building all its own craft (which it already does to launch robots such as the Mars Rover Curiosity). Garriott de Cayeux also promotes reusable spacecraft, which he claims offer tenfold to hundredfold cost savings.
Elon Musk of SpaceX, the most successful extraterrestrial entrepreneur so far, is testing reusable technology called Grasshopper. And so is John Carmack, creator of blockbuster video game franchises "Doom" and "Quake." His company, Armadillo Aerospace, is focused on building reusable craft.
TechNewsDaily asked Garriott de Cayeux why game creators are attracted to spaceflight.
"If there was something specific to the games industry, it would have to be from exploring virtual worlds," he said. "It would have to be … creating experiences that let people go into the unknown. Noting his many adventures, including into space, to Antarctica and to the bottom of the ocean, he said, "I find my drive to go explore is identical and very closely linked with my personal drive to create things for people to explore."
But the images in many games may not be the best thing to motivate future generations of explorers, said astronaut Mae Jemison. In a panel session, she spoke about the 100 Year Starship Project she leads, which aims to kick-start the technologies to make interstellar spaceflight possible within a century.
Many of the most popular video games over the years, including "Doom" and "Quake," are also very violent. "I'm struck by the fact that we have all the slasher, blood-and-guts, shoot-'em-up movies and stuff like that," Jemison said. "It doesn't make you very hopeful for the future."
Jemison's fellow panelist Jill Tarter of SETI (Search for Extraterrestrial Intelligence) said that games could be helpful, "to the extent that people can … build interactive experiences that aren't always shooting and competitive."
LeVar Burton of "Star Trek" fame, also on the panel, told TechNewsDaily that he was excited about the use of biofeedback in games. "I can certainly imagine games that are … first-person experience, where you really have to be in a calm and imaginative state in order to advance in the gameplay," he said. "And I think that's a lot more productive in terms of entrainment than … the first-person shooter." [See also: Video Games Improve Surgeons' Skills]
Jemison also sees games as a way to study how people interact, which is critical to creating livable conditions for a space mission that will span entire lifetimes. Games, she said, could help to, "ferret out some information about human behavior."
Burton agreed: "Using gameplay to problem-solve — fantastic use of the technology."